Hi there!
I was thinking about how I could vary the topic of donations and came up with the idea to partly continue as is, and partly have a contest. So, comments, anybody, please! Since the idea somewhat affects the development results, the question also goes to the users, not only to the devs.
Some basics: First, the idea is to have the contest entries be part of the normal development, not special entries for just the contest (apart from technology ideas like "find a way to create well-looking fog banks", which are to benefit future creations as well). Second, it would be a monthly contest with small ideas and a parallel 4-month-contest with bigger ideas. Third, I would alternate between the main fields "route", "vehicle", "object" and, only if I decide to have topic contests, "technology".
A "free contest" or "topic contest"? Or a mixture, once this once that?
A "free contest" means any screenshot can be entered, so just a current look into the development process, while a "topic contest" means I would give a topic and a month's time (and four months for the bigger contests, respectively) and the idea has to be implemented by the dev. I would chose topics which are non-obstrusive, so they fit into the addons without changing the artistic intention too much. I am thinking stuff like "integrate a cup of coffee into your panel", "recreate the situation from this photo, transferred to the country you are modelling (signals, typical buildings, ...), in your route" or "create a set of garden benches for free use by route devs". For "technology" I am thinking tasks like, as mentioned above, "find a way to create well-looking fog banks".
Shall I appoint a jury or decide by myself?
I would ask recognised devs if they'd be willing to help me out with deciding, if I am convinced here in this thread to rather have a jury than to decide by myself.
Would anybody else be interested in funding the contest?
Obviously, the more, the merrier. Of course people co-funding will also be co-deciding. To be fair, I'd limit the possible donation down- and upwards to the range between twice and maybe five times the price of a cup of coffee to go in your country (this way we get a fair distribution compared to how much the money is worth in the donators country). Of course you can also give an, if you want anonymous, one-time-donation for the prize (in this case I think slightly more would also be acceptable).
So, what are your thoughts on this topic? Devs, users?

Quork




Posts

: 1422


Join date

: 2012-05-05


Age

: 31


Location

: Hofheim a.T., Hessen (Hesse), European Union



I have read the post more times, but I am not sure about the idea myself. I can see certain purpose in it to encourage new developers, since the "old" names will be developing regardless of donations and contests. These potentially new developers would, however need to gain some knowledge first; so it would take a while for them to be able to join the contest.
And the people who already know how to develop usually DO develop something... so the question is if this would be something interesting and attractive to try, or rather a distraction...? What do you think guys?
Well that's the point I meant with the ideas being "non-obstrusive" - they shall not collide with the dev's intention. However if I e.g. post a photo of my grandfather's model railway mini-layout...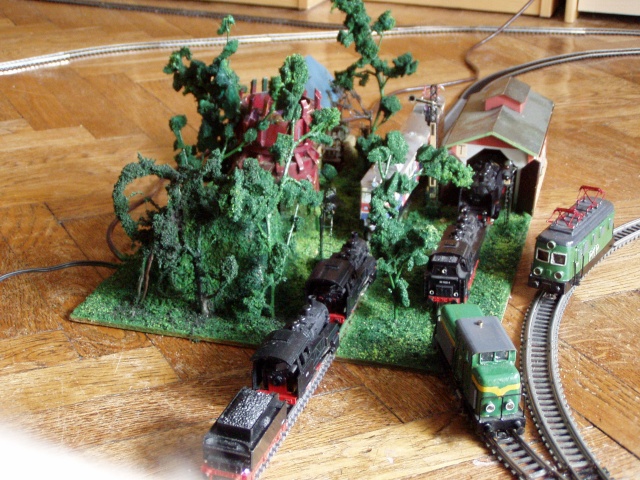 ...and ask to integrate the scene into the route, adjusted for country and depicted time, would this be that distracting? I mean, nobody will be obliged to do the contest; and I also will continue to give part of the money as continuous donation like till now. This will add some more extra fun, maybe also motivate more people to give something, and especially the "object" and "technology" contests would be accessible to people not developing big projects while at the same time helping route devs like you by creating more and more usable material.

Quork




Posts

: 1422


Join date

: 2012-05-05


Age

: 31


Location

: Hofheim a.T., Hessen (Hesse), European Union



As a related point of interest would it be either possible, or even worthwhile, attempting to draw a list of developers and forum members and list what they might be working on (WIP's etc). It would be useful to know how many people are getting involved, even if their work isn't yet released. Maybe a survey could be done. Only those with some small works to show should be included (can show screenies from object viewer etc), not "dreamers" - remember how many promised "my next project's"  we have YET to see  
Oh, to go off tangentially on Gray's tangential offgoing
 (btw, I did not forget your mail, I'll look into it soon!) that's one of the things behind my idea - I want to also reach devs, who don't want or need normal website funding.

Quork




Posts

: 1422


Join date

: 2012-05-05


Age

: 31


Location

: Hofheim a.T., Hessen (Hesse), European Union



Similar topics
---
Permissions in this forum:
You
cannot
reply to topics in this forum